Many people (myself included) when first starting an online business struggle to narrow down a niche for their website.
Your niche is essential the foundation on which the rest of your online business will be built.
Whatever niche you choose will ultimately decide your success or failure in online business.
If you choose the wrong niche, you may find yourself changing your mind a couple months down the road and pursuing something completely different. This results in a great deal of lost time and effort that you could have spent dedicated to a niche that has a high probability of being profitable.
There are a lot of reasons to choose a particular niche. Sometimes it's not easy to figure out what niche might be the most lucrative or the simplest for you to generate content for.
There is one thing that I've done a lot of in my online career and that is choosing a niche for a particular site.
In this article I've broken down choosing a niche for your website into 4 easy to follow steps to make it easier for you.
---
1. Create a List Of 5 Things You're Passionate About
The first step in choosing a solid niche is understanding what you are passionate about.
If you are not passionate about your niche your motivation to write, discuss, and ultimately dedicate your efforts to your website will diminish over time.
If, however, you love what you are writing about and you love helping people in that space you are much more likely to continue with the development of that website even throughout the most trying and difficult times.
When choosing a new niche for your website, generate a list of 5 things you are really passionate about.
You want to make sure that your niche is not too broad when it hits this list. Sometimes it is good to have a bit more of a broad niche and then giving yourself the ability to narrow it down as you establish direction for your site.
However, if you are too broad from the get go you may end up lacking focus.
If your articles don't jive well together your click through rating will drop tremendously leading to less monetization of your site. 
When people know that the next link they click on will be related to the same topic they are reading about, their interest in your overall site increases. This results in repeat visits and finally click throughs that lead to conversions and sales.
A more general niche might be "Health and Fitness". A more narrow, more appropriate niche would be "Men's Health and Fitness" or "Weightlifting".
Health and fitness is probably one of the most targeted niches out there. Especially in modern days now that the fad of health and fitness has taken over.
However, within health and fitness there are hundreds of niches that you may want to choose. This niche could be specific to Men, Women, Nutrition, Running, Cycling, etc.
When you specify your niche it makes it much easier to target a specific audience and ultimately advertise products that may result in sales.
An example list may look something like this:
Men's Basketball Shoes
Making Money Online Through Affiliate Marketing
Building a Website With No Experience
Real Estate Investment Properties (Rentals)
Building Credit and Paying Off Debt
Most of the niches on the list above have a very blatant product line that can be advertised per the larger niche. I can develop hundreds or thousands of articles on each, and each is a dynamic, changing niche that can be adapted over time.
Now that you've made your list and have a few ideas on paper, you'll then want to make sure that they aren't too competitive.
---
2. Research Each Niche For Competition
Starting a new site is tough there is no argument about that. It takes a great deal of time to develop a fully functioning, profitable online business.
However, if you work hard enough you will easily be able to establish authority within the niche you choose.
Sometimes though, we choose niches that may be more competitive. There are some sites that already have clear authority in a particular space.
If you are going to write about new hot stocks, you may realize pretty quickly that Seeking Alpha, Yahoo Finance, Market Watch, and countless other authority sites have beaten you to this niche. It's pretty clear when you start searching that niche that these are the sites that will consistently be ranking on page one of the search engines.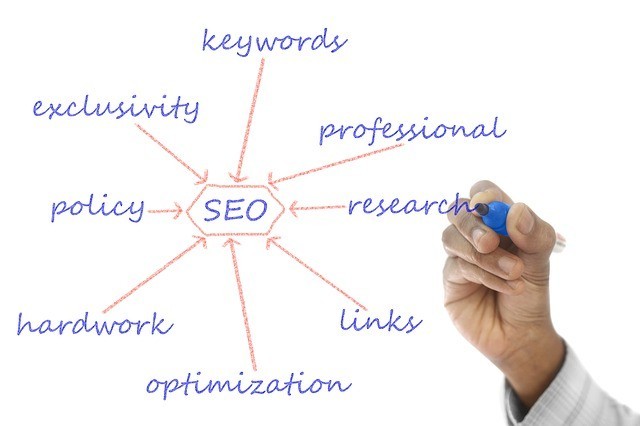 If you don't yet have an in depth understanding of SEO and the importance of SEO in successfully monetizing a site, I suggest reading this article on that topic.
In order to determine competition you'll want to start searching that niche in Google, Bing, or Yahoo. Think up a few very general ideas that might relate to that niche.
If you'd like to talk about "Making Money Online Through Affiliate Marketing", for example, you could think up a few topics that may be covered under that niche.
Some blatant ones may be "how to make money online", "best affiliate marketing platforms", "online businesses". Search these in the different search engines. You should be able to see pretty quickly which of your 5 listed niches have the most competition surrounding them.
I searched a few of the more broad topics within a couple of these niches to see what kind of competition came up.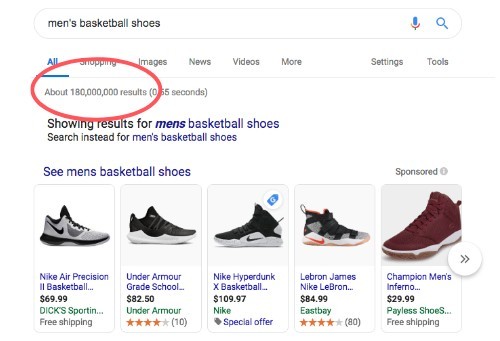 As you can see, the "Men's Basketball Shoes" may be a little broad for a niche. It is also highly competitive. "Making Money Through Affiliate Marketing" is a bit less competitive when it comes to results surrounding that niche.
Obviously this doesn't lead to your final decision on a niche as there are still millions of results showing up for each niche. This is just the initial step for filtering your top 5 list to a more reasonable list that will support the next step.
You'll want to narrow your list down now to maybe 2 or 3 of the 5 listed niches that have the least competition before moving to Step 3.
---
3. Find Some Keywords Within Your Niche
As most of you know, keywords and a good understanding of them utlimately leads to where you rank in Google.
Keywords choices are also heavily based on traffic potential, ranking, and competition.
Previously, I have discussed a few keyword tools that really help you to determine what sort of metrics you will want to look at when it comes to keyword analysis.
My favorite keyword tool, Jaaxy, can be really helpful when determining the amount of traffic you might see for keywords within your niche.
I utilize it to judge true competition for any new keywords I think up. Your keywords are what you utilize to title articles, rank in search engines, and generate different topics that eventually build out the meat of your niche website.
The initial keyword analysis I do for choosing a niche is to choose 10 unique, long tail keywords and pull each of them up in Jaaxy.
When I pull them up in Jaaxy I make note of a few key line items. I look at the Avg, Traffic, and QSR.
After I examine 10 different keywords, I put them into a spreadsheet or note taking program that allows me to see each keyword and its potential. I then sum the Avg, Traffic, and QSR. The higher the ratio of Avg/Traffic to QSR, the better the overall niche should perform.
Luckily, I don't always need to build a manual excel spreadsheet because the platform I prefer (Jaaxy) has a list saving option built in. This way I can outline multiple keywords, save them to a list, and see the potential for this niche totalized.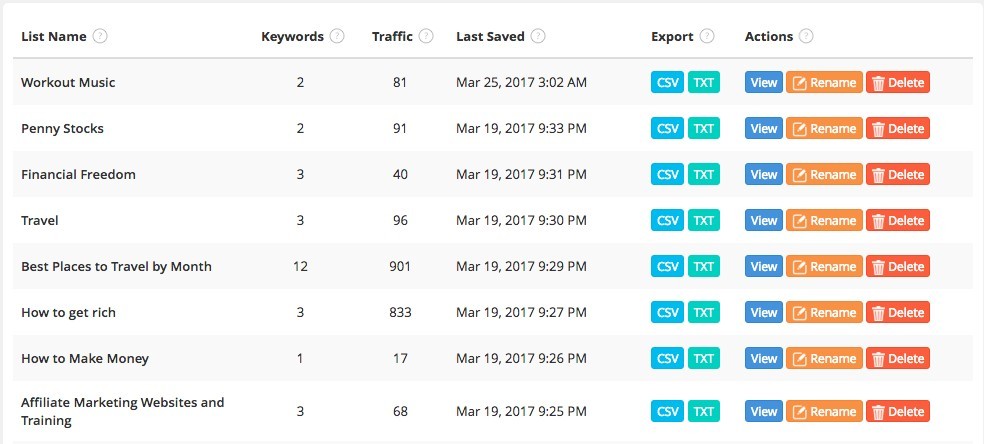 I can then compare the niches directly based on their ratios or export them to a CSV and add up QSR and Traffic for a comparison of which is has better potential.
---
4. Choose Your Niche Based on Results
Once you have 10 realistic keywords outlined for each of your top 2 or 3 niches and you've defined what each niche's potential is for overall traffic and competition, you'll then need to make a final decision.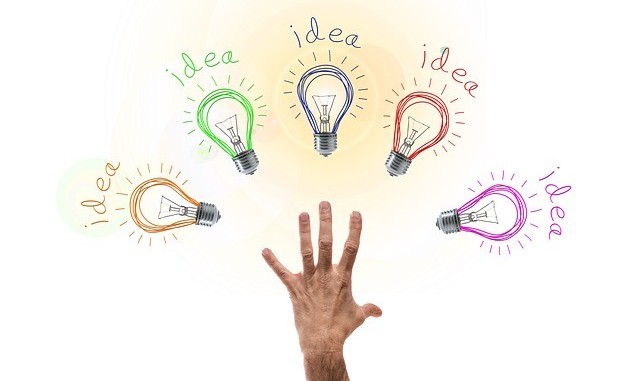 This part is pretty simple.
You must take into account all of the previous line items I discussed.
While keywords are important, you don't want to forget that passion is ultimately the biggest driving factor in your final decision.
You may have narrowed your list down to your top 3 niches, but if you are realizing that the most lucrative in terms of traffic may not be the niche that you can ultimately write about for years to come, you may want to abandon that one or keep it in your back pocket for the future.
Making your final decision is really upto how YOU feel. Make sure to take into account your highest "Traffic" result and also lowest "QSR" rating. If you have two niches that are comparable in traffic and QSR, and you're more interested in one niche than the other, go with your gut and choose the niche you are more passionate about.
---
There you have it! If you followed the steps above you should have your very own website niche by now. If you still can't make a decision and need a bit more information to make your final choice, feel free to leave me a comment below and I will help you walk through your dilemma as best as possible.
If you just want to chat further about niches in general or bounce ideas off of me, feel free to comment as well.
If you're interested in communicating directly with me, I suggest checking out Wealthy Affiliate where you can get all the affiliate/website building education you need.