If you are an affiliate marketer you are obviously interested in making the most use of your time and content development skills.
If you are going to write a new article, create a new video, or design a new social media post, you want to make sure that if you do receive any affiliate commission you receive the maximum amount possible.
You worked for that link clink, and one link click requires the same amount of work whether it's for $100 or $1,000 so rightfully so, you want to make the most of it.
You've probably spent hours wondering what platforms provide the most affiliate commissions. Well, you have come to the right place for answers.
In this article, you'll read about some of the highest commission platforms in terms of $ amount, but also percentage of commission for sign up. You'll also read about where exactly to find these platforms.
That's not all, this article makes some key points surrounding what to look out for when seeking out affiliate platforms. There are a few things that should not be substituted for higher commissions, we will discuss those as well.
So let's get started!
---
What Platforms Offer The Highest Affiliate Commissions Per Sale?
There are many different types of platforms offering high commissions on high ticket items. Historically, this has been a very scam filled industry.
These higher commissions were typically offered by MLM platforms.
An MLM, from an MLM proponent perspective (also known as a Multi-Level Marketing business) is a business, take HerbaLife for example, where a consumer of products can share their experiences with friends and family.
When that friend, family member, or the general public signs up, they receive commission for that sign up.
There are a couple catches though…
With an MLM, you would have to purchase the high ticket items yourself in order to receive the affiliate marketing links needed to start making commission.
Often times you weren't selling anything but the "digital course" you took that taught you exactly how to sell the product and perpetuate the problem.
MLMs find new victims every day.
One thing that is key to remember is that if you have to purchase a product you are no longer an affiliate marketer you are a consumer of that product.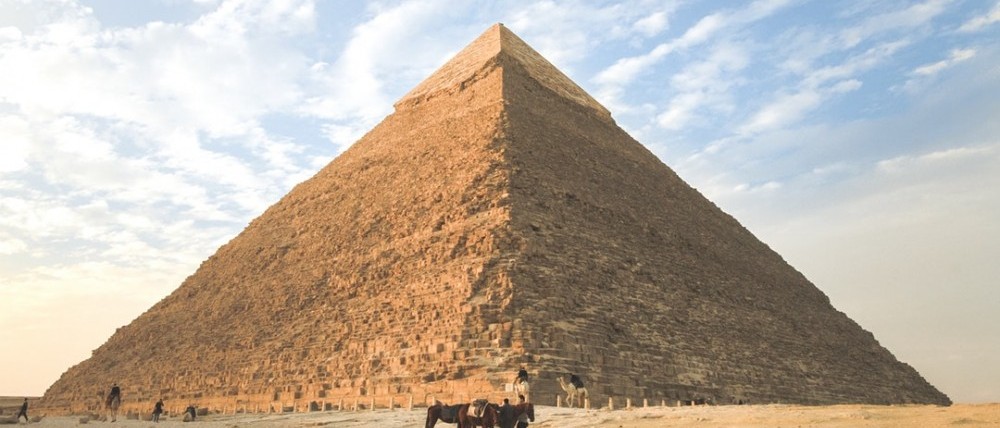 MLMs are essentially just semi-legal pyramid schemes. Heavy emphasis on "semi".
Many are victims of MLM scams before they become affiliate marketers. You can read a bit more about my story with MLMs and how I discovered Wealthy Affiliate and became a successful affiliate marketer by clicking here.
While many of the commissions with MLMs can be much higher, you are also paying a premium up front to even market that product. Without naming any names, I've seen particular MLM scams that charge up to $50,000 for their top products right off the bat.
This is why ultimately affiliate marketing is low or no up front cost (no premium), but the commission $ amounts can suffer.
That being said, there are quite a few programs out there that can offer you high commission.
The Amazon Affiliate program has a majority of mainstream products, depending on your niche you can sell very high ticket items.
Majority of the large brands sell products on Amazon, and many independent manufacturers and distributors also use Amazon as their primary marketplace because they have nowhere else to market and sell their items.
You can use services like Fulfillment by Amazon (FBA) to house products and thus they can be shipped directly from Amazon's warehouses. This is why so many high ticket items can be found on Amazon quickly.
A quick example: Being part of the health and fitness niche with Incite Fitness I can find products on Amazon that are basically entire home gyms. Home gyms can range up to around $10,000. If you are receiving 7% on a $10,000 product this can be quite lucrative as your commission is then $700 for just one sale of that item.
Another unique benefit of the Amazon Affiliate program is that usually you can look over the reviews and vet the different products without having to dive too deep into the product itself for research purposes.
However, the drawback of the Amazon Affiliate program is that you only receive up to maybe the 7% commission outlined in the above example.
This means that the amount you bring home at the end of the day is not near as much as if you were to be pulling down 50% of a higher ticket item like that.
If your niche does not offer as many high ticket items, you'll need to look for those platforms that are higher commission % platforms. Not necessarily high ticket or high $ amount products.
Even then, you can sometimes find some high $ amount, high commission % platforms that are lucrative places to find promotions. That brings us to the next major point and what probably really led you here in the first place…
---
Where To Find High Percentage Commission Affiliate Platforms?
Some of the platforms that offer the highest ticket items are platforms like Clickbank, Commission Junction, JVZoo.
It's important to be careful that the different affiliate opportunities on these sites are carefully vetted and that you do your due diligence.
It's imperative that you dig into the company before marketing it. One bad marketing scheme can result in a plethora of bad press and bad word of mouth about your online business.
If this happens it can be crippling.
You may kill your overall rankings in the search engines, your social media reputation could collapse, and ultimately you may be stuck struggling to rebuild your online business because you marketed a product as a "great product" that really turned out to be a flop.
Clickbank can be a prime example of a marketplace with a few sketchy affiliate offers out there.
Although you may receive 50% commission for a particular product marketing campaign, that product could be something like The Millionaire Switch.
There are ways to make sure that you shed light on the terrible products and you can offer very detailed negative reviews that can hopefully offer a realistic point of view on these products.
These platforms can still offer some very legit high commission products that can offer hundreds of dollars worth of commission depending.
An example of a high commission product on Clickbank would be like this one: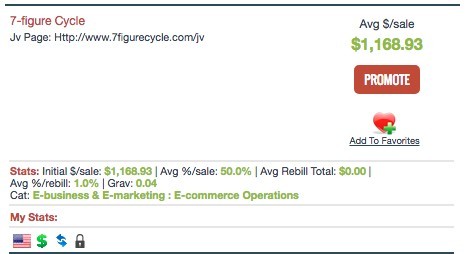 I personally have not reviewed 7-figure Cycle. As you can see it is 50% commission on a sale and you can knock down over $1,000 on that same sale.
These products can be great products, but most with a huge $/sale are probably similar to the MLM products that were discussed above. You likely don't want to market these, and usually the high price tag can be a deterrent for regular every day people looking to purchase products within your niche.
Yes, there is the classic "would you rather put in the work to sell one product for $1 million, or 1 million products for $1".
The answer out of most people is that it takes the same amount of effort to get the one sale whether it be for $1 million or $1, but that's not necessarily true.
The population of people with the capacity to make a $1 million purchase is much smaller than the number of consumers who can make a $1 purchase.
Something to focus on is what seems like a realistic product price for your niche. Although these products may be a bit lower cost, this is where the higher % commission is important.
---
My #1 Recommendation For a High % Commission Platform
There are quite a few high % commission platforms out there. Clickbank once again offers many of these. Commission Junction (CJ) is another great platform with high commission for more reputable brands. Some key brands like Nike, Underarmour, even GoDaddy and Yahoo use CJ to find affiliates.
An example of what you'll find on Commission Junction is shown here:
While all of these are great once you are an affiliate marketer. You can also use a one stop shop.
My number one recommendation for a high % affiliate platform is hands down Wealthy Affiliate.
Wealthy Affiliate allows you to market multiple projects, this includes domain sales, services, hosting (SiteRubix), and support. You can also advertise their keyword research platform Jaaxy.
Not to mention Wealthy Affiliate provides you with a full scale affiliate training university with hundreds of online training videos.
The commission that Wealthy Affiliate offers is around 50% on all products and services.
Although Wealthy Affiliate is not a high ticket item promotion, it can add up quickly with the commission structure shown below for both Jaaxy and WA:
As you can see both the commission structure for Jaaxy and Wealthy Affiliate is pretty lucrative. This is especially true with yearly sign ups.
The 12% conversion rate is one of the best for affiliate marketers and has proven to be a great revenue resource for myself and over 1.4 million other WA members.
Interested in learning more about Wealthy Affiliate and what the platform has to offer?
If you have experience with high commission platforms, have questions about where to find them, or have an opinion on what the best high commission affiliate resources are… please leave a comment below to discuss these topics further.
I'll personally respond to you as soon as possible.