Real Estate:
It is a widely known fact that humans need food, water, and shelter to survive.
As a firm believer in supply and demand, and as the population of the world increases, real estate will become increasingly harder to come by in the future. This means that the overall price of real estate will increase across the board.
If you position yourself to own real estate before an area becomes too dense, desirable, and expensive to purchase property, you will be among those profiting from their real estate holdings.
Investing in real estate doesn't have to be a complicated process. With the right research you will be able to find an affordable property that meets your needs.
So, what are some critical things to think about to ensure you choose the RIGHT real estate?
When choosing the location of an investment property it is always important to remember that areas that seem to be over-extended or extremely sought after are not necessarily your best options.
For example, if you look at the city of San Francisco, California, you would probably think that since this is a desirable place to live and is increasing in population year over year that it will be a profitable area to invest.
If you look at rent prices year over year, however, you may realize that they are actually taking a turn downwards.
This may signal that the real estate market in this particular area is in a bubble and that these high property valuations may not hold up for much longer.
When choosing a location to purchase property always remember to look at:
The Surrounding Neighborhood: Would you raise a family here? Are there local parks? Nicer homes? Nicer vehicles in the driveways?
If you are able to answer "Yes" to all of the above questions… This neighborhood will likely remain desirable in the future.
After all, the general rule to purchasing a new property is to "purchase the worst home in the nicest neighborhood".
This leads me to the next key element of purchasing real estate.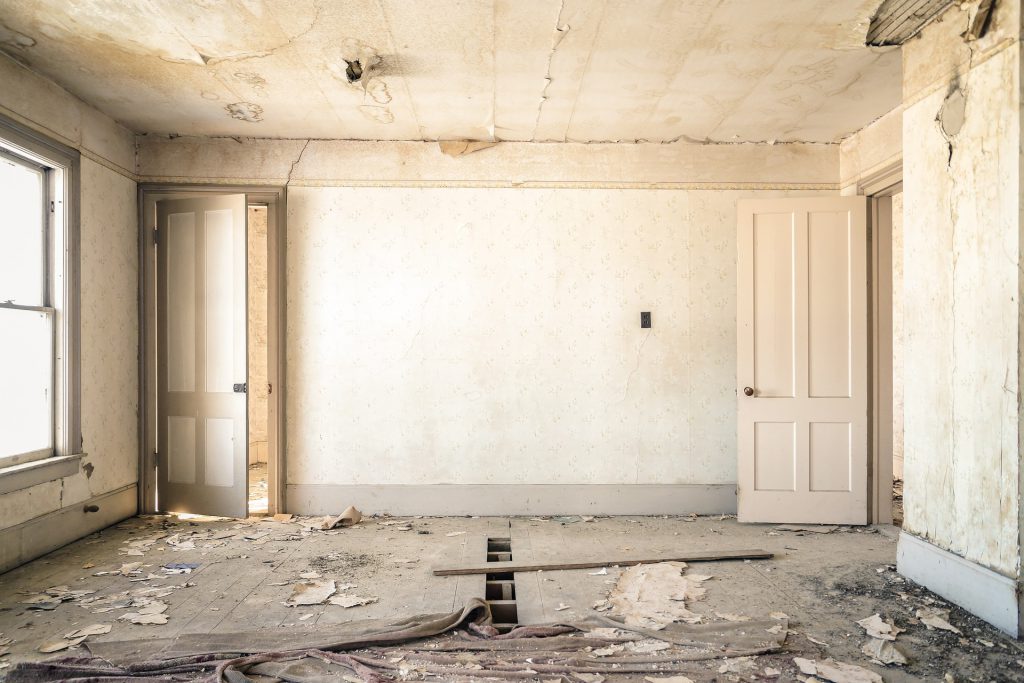 Does this home have a desirable floor plan but is outdated on the interior or exterior? You may be in luck.
Desirable floor plans offer great renovation potential. As trends change, they still seem to favor some very particular floor plans. One very common floor plan that investors focus on is a very open and airy home.
Generally speaking, people interested in purchasing the home after you, or renting from you while you own the property will seek out open floor plans as a key element on their list of wants.
If this is the case, an open floor plan with a bright airy kitchen and living area may be the ticket to selling for a profit in the future or renting at an escalated rate.
Some quick renovations that can add a considerable amount of equity and desirability to your investment property can be the kitchen appliances, cabinets, sink, and faucets.
If you start with these items, you may be attacking the single most important piece of your home that will create a legitimate return on investment.
Kitchens have been a focal point of homes for years, and the trend of having an upgraded kitchen is not going anywhere soon.
The next most important upgrade would likely be flooring. If you manage to strip your investment property of outdated flooring and install hardwood, tile, or laminate, you may be able to quickly increase your properties value without breaking the bank.
Sometimes flooring can run as low as $1.00 per sq. ft even at big box stores. However, if you find a local flooring liquidator you may be able to swing a free install along with your purchase.
The last critical component of your real estate search should be the growth potential.
Is this area increasing in population at a rapid rate? Many investors purchase property in America's fastest growing cities in order to ensure that demand will be met.
However, it is important to understand the demographic you would like to rent or sell to in the future.
Is this property near a college or university? Would you rent to students? What is the growth rate of this university?
Many of the California State Universities, as an example, have experienced a large influx of applications in recent years.
With new pressure on younger generations to obtain a degree, students are seeking schools that may be cheaper, yet still prestigious enough to land them a job.
If the real estate you invest in is near a rapidly growing university, you may be able to increase your rental prices as the prices of on campus living increase.
In addition, many college students seek out roommates, so paying the rent should be less of a concern.
Lastly, there will be no shortage of renters in this area as campus housing cannot support the rapid increase in the student body population.
You may be concerned about the cost of investing in real estate, and that is understandable. Down payments for investment properties aren't always easy to obtain.
So what if you don't have enough savings to put the down payment on an investment property?
Are there other options?
The answer is… YES!
With modern advancements and the widespread implementation of crowdfunding for new investment opportunities, real estate crowdfunding is emerging as a premier opportunity for those who are currently unable to purchase property on their own.

In addition, crowdfunding platforms like RealtyShares allow you to purchase equity in different real estate ventures including basic single family rental properties and even multi-family complexes.
You can actually start investing in Real Estate with as little as $5,000.
Why is this so important? Utilizing crowdfunding platforms like RealtyShares allows ordinary people without large amounts of free capital to invest in cities all across the nation.
This means you aren't even required to live in the city you are investing in.
Say you do have a large amount of free cash flow to invest, yet you don't want to take all of the risk yourself. Real estate crowdfunding platforms allow you, the primary investor, to reach out to others across the globe in order to raise the funds necessary to invest fully.
Want more details? Check out RealtyShares for more information on how the platform works and sign up today.
---
Disclaimer: The above references an opinion and is for information purposes only.  It is not intended to be investment advice.  Seek a duly licensed professional for investment advice.