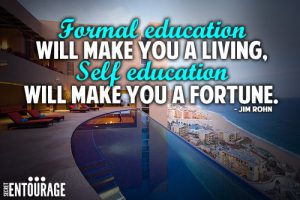 Do you wonder whether you need college to become a successful person?
The short answer is no, not necessarily. Let's talk about why this is true.
I want to outline to you some of the best self-education tools out there, and also stress the importance of college at the same time.
Self Education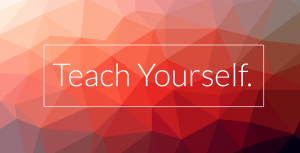 There are pros and cons to pretty much every decision you make in life. Let's examine the pros and cons of self education.
Pros:
Learn the information you find relevant. Learn what pertains to you, not all the fluff. Learning relevant information will improve performance in that niche.
Work at your own pace. You don't have to blaze through a chapter of material in one week. This allows you to truly absorb the material.
You can learn as much or as little as you want. This allows you to focus your learning on Quality over Quantity.
The cost of self education can be extremely cheap. Most self-education resources are free, and some are much cheaper than a tuition payment.
Cons:
You have to stay self-motivated. For some people this is easy to manage, but for many, it is easy to ignore your educational responsibilities.
No structure. The lack of structure or planning in self-education can be a huge deterrent. Often times you will find yourself jumping from topic to topic with no rhyme or reason.
Filtering quality resources. Sometimes you can't tell whether or not a resource is a quality resource. Everyone can learn from Wikipedia, but that doesn't mean that it is providing you with true and correct information.
Opinions over facts. Most self-education systems are put in place to learn about things that you don't really learn about in college. This can mean that there is a large amount of opinion associated with your learning.
College
Just as there are pros and cons with self-education, the same applies to college.
Pros:
Structured learning process. You will be learning within a program that has been well established and is structured in order to propel you to the next level of learning.
Networking. Networking in college can be one of the biggest benefits of attending. Building a system of peers and colleagues can lead to job opportunities or growth opportunities in a particular industry.
Proven track record. Usually a university or college is accredited. Therefore there coursework is proven.
A degree helps. Higher paying jobs generally require some sort of specialization. This is true even in a manual labor sense. If you attend college you are likely to find a higher paying day job.
Entertainment value. You can't deny that college is usually a blast. If you don't attend a commuter school there are tons of opportunities to get involved in your college community and truly make it a well-rounded experience.
Cons:
Cost. Colleges and Universities are steadily increasing tuition. Often times many cannot afford to attend prestigious universities. This causes less likelihood of your degree paying off in the future.
Time to learn. Usually with structured programs, there is a designated amount of time you are stuck there. While this can be good, the pace isn't left up to you. This forces you to learn at their pace, and can actually waste time or cause poor performance.
This isn't the environment for the entrepreneur. If you want to learn how to be an entrepreneur you have to be self-taught to an extent. College doesn't generally teach you the stuff behind being dedicated to your own business.
The Best Option For You?
I have personal experience with both self-education and college. I have attended a 4-year university and obtained my undergraduate degree in engineering. In addition, I am completing my graduate degree in mechanical engineering in the near future.
I can tell you, college will set you up for success when you self-educate post college. 
I learned a lot in college, and everyone's experience is different. However, I do know the most important thing I learned. I do understand what it takes to be a successful entrepreneur and I have to say college did contribute to this.
Critical Thinking and Problem Solving Skills… The absolute most important thing I ever learned at a university was how to think critically and solve problems.
Setting up problems takes structure, and self-education may not direct you down the path of structure. This is why I find a university education to be extremely important.
Granted…you can learn structure on your own, and how to solve problems, or at least methods to solving problems. The problem with this path though, is that you are not faced with the same complicated variety of problems that you face in college.
Self-Education still has its place…
In order to get the most out of your college education, you must continue to learn. Ian Leslie's book Curious is one of my favorites. He relates success to your desire to know.
If you are pushing yourself down a path of self education then you obviously have the desire to learn and know more. This is the desire that will make you a successful entrepreneur.
What you want to learn is completely up to you. Whether you want to learn a specific trade, how to market to a particular audience online, how to build your own successful brick and mortar business…whatever your passion may be, there are resources out there for you.
My personal favorite resource is one that I use daily. My self-education is perpetuated by the drive to understand everything there is about online digital marketing.
I learn more every day about catering to audiences and building the best possible site available to users. Digital marketing is nothing like what I studied in college, so I am forced to use the skills developed in college to educate myself on the tricks of the trade.
My Conclusion
I think the best option for you… is a combination of college and self-education. Both have their benefits as outlined above, and when combined these two forms of education become a force like no other.
You are taught how to learn, study, and develop skills in college that will allow you to make a living. However, you must further your education after learning these skills in order to make a fortune.
I personally create passive income through Affiliate Marketing. You can too.
If you're interested in Affiliate Marketing, I have the resources that you need right now.
The BEST Resource For Self-Education
I have written a review about my favorite online marketplace for education. Here you can learn about everything ranging from optimizing your keyword usage online, to attracting users, and converting your websites to money machines.
If you want to know the secrets to how I make money online, check out My Wealthy Affiliate Review and go sign up for free.
If you have any of your own ideas, share them in the comments below! I really want to hear about your experiences with self-education.