One unique tool that most website developers, affiliate marketers, and bloggers don't realize they have available to them is the Google Search Console.
If you have been consistently struggling with getting your website indexed you need to make sure that you are using this one tool within the search console that will almost guarantee immediate indexing.
I'm going to walk you through the exact steps you need to follow to start using Google's Search Console to "Fetch With Google".
---
What is "Indexing"?
Some of you may be wondering what the term indexing means. This is explained pretty simply.
As a website creator, writer, whatever your role is you are probably creating some type of content and placing it somewhere on the internet. Whether this is your own personal website, YouTube, social media, it doesn't matter.
What matters is that you are creating content, and that content needs to reach an audience in order to drive your online business.
The way in which content is found is usually through a search engine like Google, Bing, or Yahoo. In fact you probably landed here because of a search engine.
Typically, search engines have bots (really just some lines of code and a program that's run) that crawl the internet searching for new content whether it be a website, a video, or a new photo.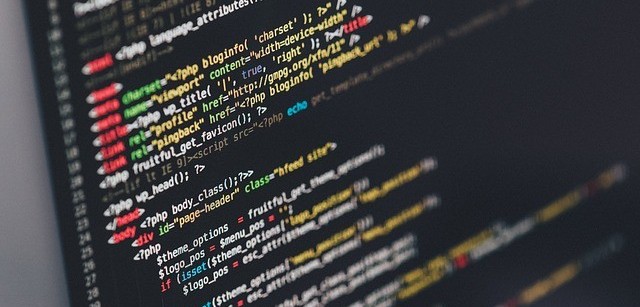 The first step in ranking on the search engines and having your content found by your audience is being indexed by said search engines.
More technically put, this means that a search engine has discovered your content, parsed the data included in that content, and then stored that data for reference later.
This "index" so to speak is what each search engine pulls from when deciding to rank different websites.
As you develop your website and more content is indexed then you will be able to rank higher in the search engines due to established trust and unique, keyword rich, appropriate length content.
So you're probably wondering how to get indexed?
---
Getting Indexed Naturally
Getting indexed naturally is probably the simplest way to get indexed. You can actually create content and since search engines crawl millions of pages daily, your site will eventually be found.
As you develop new content on your indexed site, the search engine will remember you and will likely find your new content a bit faster which will result in better rankings.
How fast will I get indexed you ask? Well that's the tough part.
Getting indexed naturally can take quite some time. My first website actually took a week or so to get indexed.
This is primarily due to the lack of content but also because I had yet to learn of one simple tool that every web developer should have in their arsenal of tools, the Google Search Console.
Of course, if you have taken the free video training courses that platforms like Wealthy Affiliate or other online universities provide then you will already be familiar with submitting sitemaps to Google or installing an SEO plugin that takes care of that for you.
The real question is, however, how do you ensure that your NEW content is being indexed and how do you decrease the time in which it happens?
That is precisely where the Google Search Console comes in.
---
Setting Up a Google Webmasters Account
The first thing you will need to do is head over to https://www.google.com/webmasters/ and sign up for a new webmasters account.
I actually suggest checking out the video included from Google on using the Search Console that way you are familiar with the platform from the very beginning (Google has very informative start up videos).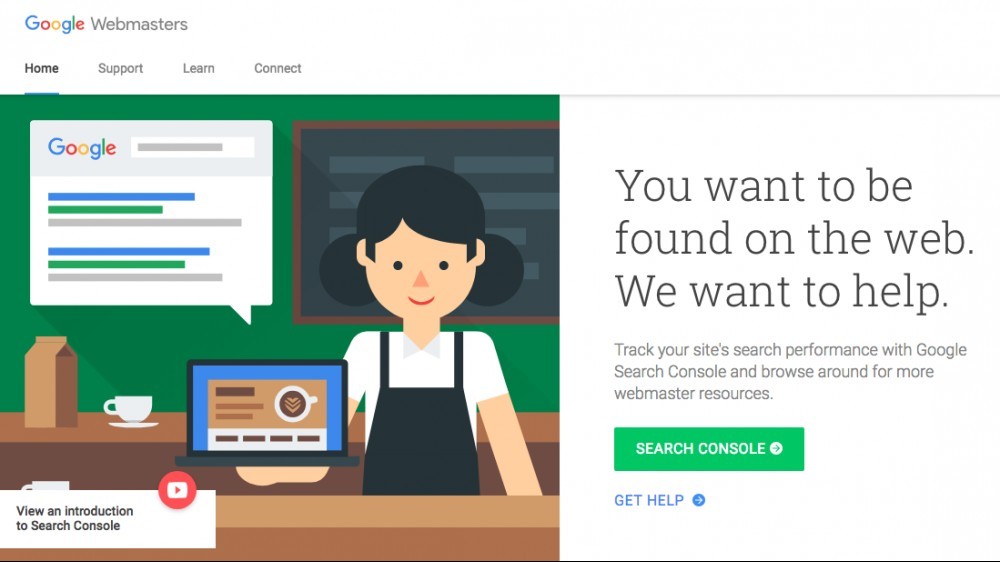 You'll want to sign in using the same email that you utilize for your websites. If you want to use a different email, I at least suggest using the same one as your Analytics account with Google.
This way it's easy to remember as consistency of email and passwords generally helps.
If you stay logged in with Google it's also quite simple to jump from platform to platform without signing in and out…
So now that you are all signed into your Webmaster Tools Account, you'll want to access the actual Google Search Console.
---
What Is The Google Search Console?
The Google Search Console is part of the Webmaster Tools available to those with an online property or "website".
There is a great deal of information provided by the Google Search Console. The classic version (which I still prefer to the new one) has crawl options that are quite handy and easy to access (this includes the most important function, Fetch as Google).
The first thing you need to do to gain access is click to Add a Property.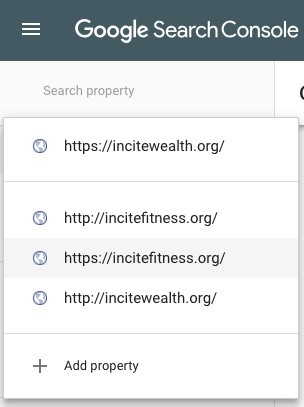 After you click "Add Property" you will want to type in your EXACT homepage url. The example for this article would be the site you are currently visiting: https://incitewealth.org/
I suggest registering your Analytics site first and returning here once you have done so.
Once you have pasted the Analytics code in the header of your website and registered your Analytics account, you will then be able to simply verify your property with Analytics.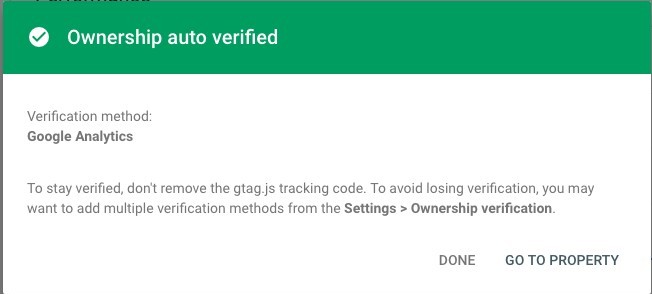 If you need more information on inputting the appropriate code into the header of your site or signing up for an analytics account check out this great video on doing just that. 
Once your new property is registered you will want to confirm that you used the https:// prefix if your site is secured. If you use the http:// version of your site you may get errors due to redirect and your Google Search Console reports could be inaccurate.
Now that you have access to the search console, there is one important tool anyone can use that will guarantee swift indexing.
---
Fetch as Google
I've alluded to the most important piece of the search console. Now I want to actually outline just how to use it when you create a new article or piece of content.
When you develop your new piece of content you will have your Meta Tag, Meta Description, and all associated keywords built into that content.
You will do your due diligence and share your content on social media, request comments through a comment requesting platform or something similar.
Finally, you will need to utilize the Fetch as Google tool which gives you the ability to actually REQUEST INDEXING from Google.
First, bring up your Search Console. You should see a screen that, on the left, looks similar to this one:

I usually choose "Go To Older Version" for ease of use and access to the "Crawl" function. You will then see the options available here:
You will want to then click "Fetch as Google". The screen that appears on the interior should look similar to the one shown below: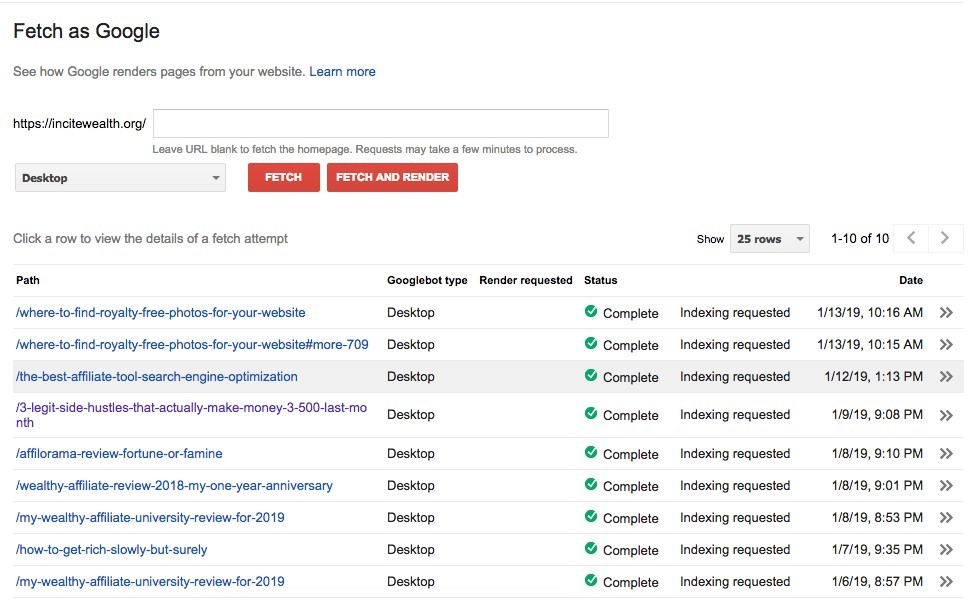 Once you see this screen, you can take the URL of your new content and paste it in the blank search bar to the right of your base property URL.
You will only want to paste the specific page URL portion as your property is already established and is locked as shown above.
Once you paste your content's URL in the empty box, you will want to click the "Fetch Button" shown in orange.
Once the new page is "fetched" the page will show up in the queue below the empty search bar.
You will then need to click request indexing. After you click request indexing, you will have to choose from a couple different options and confirm you're not a robot.
If you have properly submitted your sitemap in the past you should only need to click "Crawl only this URL" not the direct linked pages option.
After that, Google will actively send its bot to your website to crawl the site.
Quality content will likely be indexed in 30 minutes or less!
If you want to check the status of indexing you simple click on the line item within the indexing queue and you can see the date executed and the code that has been indexed from your page.
There you have it!
Your content should be indexed in Google.
When it is indexed in Google (and other search engines) you have more opportunity to rank, have clicks through your links, and convert traffic to sales!
If you have any questions about this process or building an affiliate site in general please feel free to leave a comment below.
If you have had your own experiences with getting content indexed and want to share, please feel free to leave a comment as well.
If you want to network with me personally, head over to my Wealthy Affiliate profile where I can teach you everything that I have learned about building an online business and give you total access to the very same resources that I have used to build this website and countless others.