Product: Affilorama
Category: Affiliate Marketing Community
URL: Affilorama
Pricing: Free initial sign up, option to buy extra tools. (Premium sign-up option initially $1, $67/month after that)
Rating: 4.6/5.0
---
What Is Affilorama?

Affilorama is one of the largest affiliate marketing communities in the world. They offer a comprehensive, all-inclusive marketing course and collaborative space for affiliate marketers to work together and they offer commission for those that choose to promote their community.
Affilorama is free and includes three main portions: an affiliate marketing quick start guide, a downloadable roadmap for your success, and over 120 video lessons that walk you through the step by step process of becoming a successful affiliate marketer online.
This platform has been featured on multiple major online business websites including Forbes, MOZ, Technorati, The Washington Times, and FORTUNE.

In addition to their overall platform Affilorama offers additional tools that allow you to manage critical components of the website creation and scaling process including SEO, PPC, Social Campaigns, and niche offerings, and more.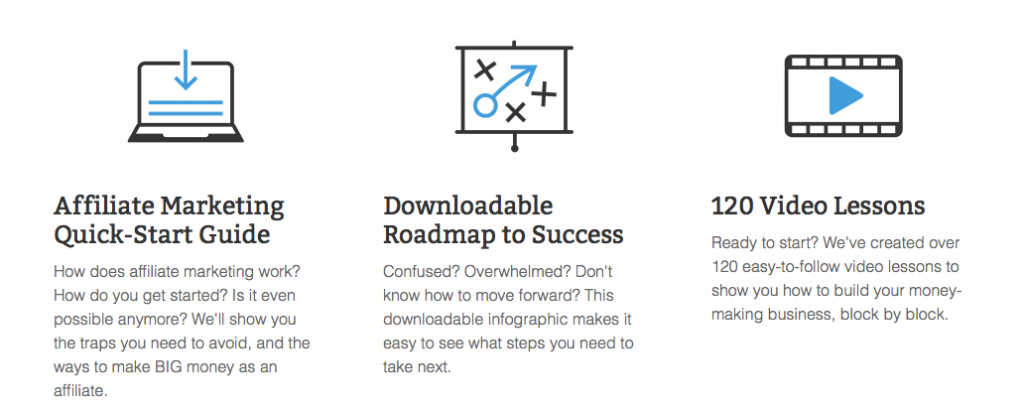 Who is Affilorama for? Affilorama is for anyone interested in Affiliate Marketing who wants to learn and truly wants to succeed in building an online business. They offer a free membership so you don't have to have a steady income to get started. All that's required is an internet connection and drive and determination to get through their lessons.
---
How To Sign Up For Affilorama
Signing up for Affilorama is quite simple. Just head over to their website by clicking here. That will take you to the main page and click the sign up now button.
This will pop up a sign up sheet that is super simple. Just input your name, email, and create a password and you're rocking and rolling.
If you wanted to upgrade to premium with access to a 7 video starting guide there is a bonus. $1 Premium Sign Up for your first $30 days. In addition, Affilorama offers a 60 Day Moneyback Guarantee if you aren't satisfied.
---
Key Features
Huge community boasting over 8,000 active members.
120 Awesome Video Lessons showing you exactly how to build an online business from scratch.
AffiloTools- An application that Helps with SEO, PPC and Social Campaigns and can easily lead to more profitable leads and conversions.
AffiloJetpack- Another critical application that helps to accelerate your business through pre-selected niches, powerful keywords, and great graphics.
Rank Tracking Tools- Keep track of your rank in top search engines
Seamless integration with marketing platforms. This allows you to see your Clickbank revenues in addition to your Analytics performance.
Keyword performance tracking. Tracks your individual keywords and shows you where your traffic is coming from.
Integrated social media tools. Shows likes and social media performance for your niche site.
Competitor statistics. Shows if your competitors within your niche are catching up in terms of traffic.
---
My Personal Experience
I wanted to share my personal experiences to support what the testimonials above are saying.
Affilorama has surprisingly helped me tenfold. I have so many metrics I can use to track my performance on my websites. It honestly could not have come a better time. When I first started using Affilorama I was tracking performance in many different places.
I generally would use Analytics, jump to my affiliate program sites and track my performance in separate reports there, in addition to tracking social media on each respective social media site.
After finding Affilorama I was able to track everything in one place. This boosted productivity due to less wasted time on data analysis and tracking.
Affilorama also helped me to learn things from a different perspective than the one I get at Wealthy Affiliate. Essentially Affilorama fills in any small gaps I may have had with their wide variety of video lessons.
Their site support is another awesome feature. If you have any questions or concerns related to Affilorama their team of experts will jump right on it. They are very responsive and get back to you promptly.
I wouldn't say that Affilorama is the key to my success, but I would say that it definitely is a product that can help anyone looking to start their own online business.
I am a firm believer in expanding to multiple platforms so using Affilorama for it's amazing tools should be inevitable. It offers a great support system and comprehensive information that allows you to really scale your business and see success that you may not have when limiting yourself to one platform.
My success using Affilorama: In addition to Affilorama helping me tremendously with boosting my websites to the 4 figure a month range, they allow you to become an affiliate of their program as well without having to purchase any products.
I have many times stated that you should never have to purchase a product to market it. It doesn't make sense that you would be forced to drive a BMW as a BMW salesman. While it helps if you know the car inside and out and have driven it yourself many times, you only need to be an expert on the subject and Affilorama makes it very easy to become an expert on their tools and overall platform.
Since Affilorama is so easy to market I have seen spectacular commissions come from Affilorama and intend to never stop using their services and tools. Finally, they will help you with outsourcing. After working on sites every single day turning my days into 18 hour work days, Affilorama has given me the proper instruction on outsourcing some of the day to day tasks of operating a niche site like this.
I highly encourage you to head over to the site and check out their Introduction post and free video lessons. If you aren't convinced after that then maybe affiliate marketing is not for you and that's okay!
---
Final Thoughts
I personally could not be happier with my experience with Affilorama. When they say they are the best out there I would agree that they are one of the best most certainly. Their educational resources and tools are an absolute must have for anyone looking to become a successful affiliate marketer. It is important that you diversify your options and opportunities and Affilorama has helped with this tremendously.
It is well worth the free membership to at least get started. If you don't then purchase the additional options that Affilorama offers I would certainly be surprised. Once you begin to really dive into the community and offerings that Affilorama gives you I can say with confidence that you will not want to leave.
I think that the two major platforms Wealthy Affiliate and Affilorama are the only platforms you need in the affiliate marketing industry that will drive you to success. They supplement each other amazingly and easily push you to achieve your goals whether is is $100/month or $10,000/month it can be done with hard work, dedication, and a little help from these platforms.

---
Fortune or Famine
I give Affilorama FORTUNE tag. I am always ripping apart platforms here as majority of online services are complete scams these days. It is not very often that I find something legit.
When something like Affilorama comes along it is easy to write it off initially as just another affiliate site. After checking out their website and joining for myself I have to say it's earned the Fortune tag from us over here at Incite Wealth.
---
Remember, never limit yourself to one form of income or one educational resource. Learn about my multiple forms of income here.
If you have any questions about Affilorama or would like to talk about your own personal experience there please, I encourage you to comment below!