In today's society, gig culture is becoming more and more popular. The laptop lifestyle has swept the globe and working from home is more popular than ever.
With the rise of the internet, access to WiFi anywhere in the world, and the ability to make money online with only a laptop and a bit of creativity, working from home is more a reality than you know.
Perhaps you've been struggling to find success through online business. That's okay, this article will explain to you exactly how to successfully work from home in 2019.
---
Why Work From Home?
Working from home has quite a few benefits. Doing so allows you to spend more time with friends and family, commit yourself to a healthy lifestyle allowing you plenty of time to exercise, and travel as much as you please.
When you make your own schedule you can work hard when you want to work hard, yet still enjoy your life as you please.
Not being locked into a schedule has great benefits. If your children or other family members have important events in their lives you'll never have to miss them.
The 9 to 5 corporate lifestyle won't be there limit your abilities to be a good father, mother, son, daughter or whatever it is that you are hindered from being right now when you work from home.
The truth is, the laptop lifestyle and ultimately the ability to work from home successfully is not far off.
If you have an internet connection, and the will to learn, you have options.
What are these options? Below are two awesome options for working from home that you can kick off right now.
---
Freelancing
Freelancing is when you are able to make use of your unique skills.
There are two routes to freelancing, either you have physical skills or digital skills that you are able to offer to the rest of the world and ultimately monetize.
Your physical skills are the types of skills that you may have already developed in your day job. Are you a carpenter with unique wood working skills? No matter your physical skills. Sites like Etsy are a great market place for custom made furniture.
If you know how to work with your hands and create unique pieces out of wood, metal, or any other material, you can likely sell it on different online platforms as a side hustle or even to replace your primary full time income.
With the recent rise of sales mediums like Amazon, Etsy, or even just via your own E-Commerce store it's easier than ever to sell directly to consumers.
There's no large capital sink required of you up front as there is with a brick and mortar store. You don't have to build a giant inventory of items for sale, or even have a continuous stream of new items to sell on these platforms.
You simply sign up for an account, advertise your product, and sell the products as you create them.
People can visit your website or Amazon for example, click and purchase the product. All you have to do is ship it out.
If you'd rather, you can use fulfillment services like Amazon FBA to store your products and handle all of your shipping to customers directly from their warehouses.
If you know and understand how to acquire materials at wholesale, or at least relatively cheap, you'll be well on your way to turning a significant profit with as little as 4 or 5 hours a week.
The 4 hour work week is what working from home is all about.
The point is, if you have physical skills, you can deviate from the typical day job lifestyle and work from home by putting those skills to use.
Digital skills are also a unique opportunity.
Are you decent with photography? Photoshop? Graphic design? Do you like to write? That's great.
With new platforms like Fiverr available to everyday Joes like you and I the internet makes it easy once again to put your skills to work.
Fiverr is a platform that allows you, as a freelancer, to do all of the things mentioned above and more.
Those who are looking for different services come to Fiverr seeking out these services. Here, they can directly hire you to perform that service.
You can find anything on Fiverr, logo creation, marketing fliers, freelance writers. If you develop skills in any of these areas it's easy to find work.
Click the banner below to get started with Fiverr today!
Some of these gigs can pay quite well. Many people can charge up to $50-$100 an hour if you are exceptional at what you do.
The point is, if you have skills, whether physical or digital skills, you can make a full time living by putting them to work.
This means you are writing your own paycheck and no longer dependent upon a W-2 or someone else's success to help you live.
However…
If you haven't had the time or life experience to dedicate to creating skills of your own just yet, that's okay! There are other options out there that are completely comprehensive.
These options will teach you the skills you need to know and provide you with all the tools necessary for success.
My favorite option, and the personal route I have chosen that has been tremendously lucrative over the past three years is without a doubt this next option.
---
Affiliate Marketing
If you haven't yet developed your own skills to put to work freelancing don't worry.
Affiliate marketing may be the easiest way to build a functioning and profitable online business.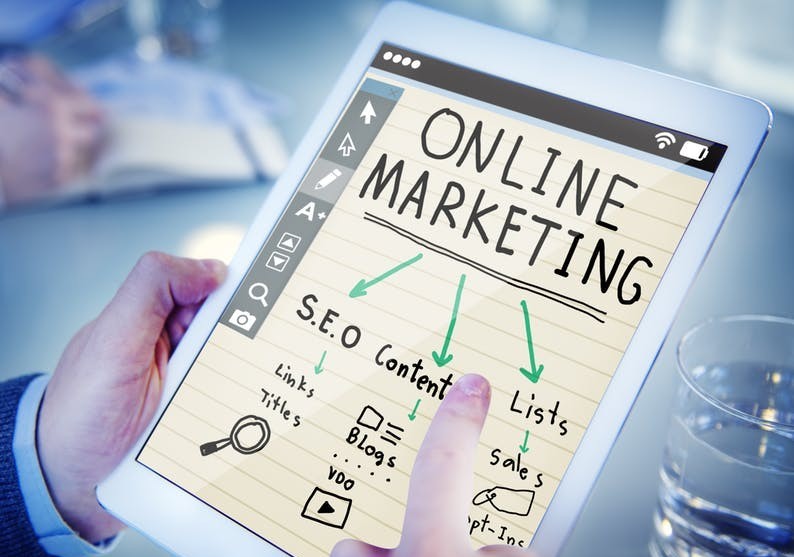 Affiliate's advertise or promote the sales of other's products online. When your affiliate link is clicked and ultimately drives someone to make a purchase, you receive a commission as an affiliate.
Affiliate marketing opportunities are in abundance these days. It seems that if you have a knack for advertising you will be able to find a product that fits your interests to sell.
A great example is Amazon. Amazon has an affiliate program that you can sign up for as long as you have your own website or platform to make sales (this can be social media like Instagram, Twitter, or Facebook as well).
They will pay you out anywhere from 4%-15% on a wide variety of items. My favorite is selling books, however, you can become an affiliate marketer of really any product.
Ultimately, you will choose a niche that is of interest to you and aligns with your passions. In addition to this site, I run multiple websites related to health and fitness that allow me to sell items of interest to those looking to purchase health and fitness items.
This all happens naturally as I help readers gain knowledge on living a healthy lifestyle which is the best part of affiliate marketing!
Affiliate marketing is simple to start…
There are countless platforms out there that will teach you everything you need to know from how to purchase a domain, set up your very own website, finding products to promote within your content, and ultimately start driving sales and earning commissions through your affiliate site.
Click here to read my in depth review of the #1 free affiliate marketing university on the internet. 
Affiliate marketing can be done from absolutely anywhere.
If you have a portable computer, a smart device such as a phone or tablet and an internet connection you can be working.
Countless affiliates, many of which are members of the Wealthy Affiliate platform have become quite successful working from home.
So much so that they've quit their day jobs, essentially retired early and now live on the road. In fact, I've run into affiliate marketers in my travels dozens of times.
If you're looking for the best legit way to make money online, you should sign up for a free account and give some of the early Wealthy Affiliate training a shot.
There you will receive everything you might need to get your very own website up and running. You'll be able to watch in depth video lessons that walk you through the exact steps to get a site fully functional, just like this one!
On top of that, as your skills continue to develop you will learn how to scale your business and ultimately you'll be replacing your full time income just like many of the top members at WA are doing.
Click here to read a testimonial from one of my favorite colleagues at WA.
---
In Conclusion…
There are thousands of ways to make money online these days. Ultimately if you are dedicated to replacing your income and working from home, it's only a matter of time until you see success in whatever you pursue. Just remember to stick with it.
I hope that you've enjoyed this article. If you are looking for more ways to make money online, please continue to poke around my website. You'll find multiple side hustles that I have personally attempted, vetted, and either succeeded or failed at.
Who knows, maybe an example of what I failed at is something that you are fantastic at. It's always worth a shot especially when you don't have to put forth large amounts of money up front like most franchises, businesses, or gurus want from you.
Remember, if you have to pay for a product to market it, you are the customer, not an affiliate!
If you have any questions for me about making money online, want to offer some insight into any of the methods outlined above, or just want to chat please drop me a comment below and I'll make sure to personally respond as soon as possible.