Most Affiliate Marketers spend an enormous amount of time researching keywords. This may be the single most important step in writing content. Keywords drive the length of your content, your audience, your brand, and how well your site ranks on the major search engines (Google, Bing, and Yahoo).
Luckily, there is Jaaxy, the keyword tool that will guarantee your site ranks on different search engines.
---
I used to search for keywords manually in Google. I would search particular keywords, look at the different articles and sites that appeared, and chase down the under represented keywords.
As I became more advanced with my content development I started looking at Google Search keyword trends and wrote content during hot months for those keywords. An example search for "Affiliate Marketing" is shown here: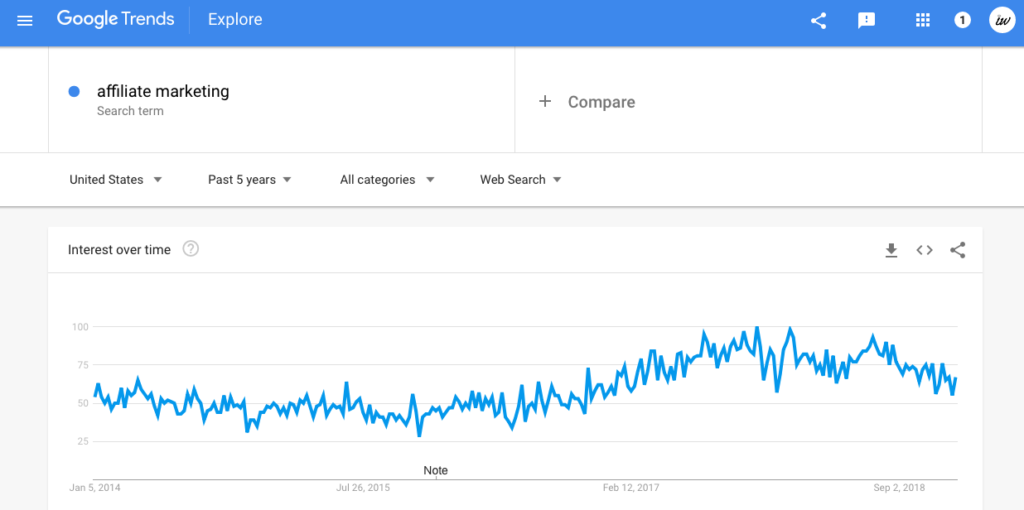 As you can see "Affiliate Marketing" has become a more popular search term over recent years. However, this data is limited.
What most don't realize is that while this is a great method for timing your content, you may not be getting the most ranking potential out of the keyword that you utilize.
When I finally discovered Wealthy Affiliate, the platform I use for all of my hosting, research, and affiliate marketing education I realized that I had been going about my keyword research in a not-so-perfect manner. Luckily, the amazing team over at Wealthy Affiliate has made it easy for members and non-members alike to analyze the keywords that they generate before they utilize them in a new article. They created Jaaxy.
---
The Importance of Keyword Research
Before diving into the importance of Jaaxy itself and the benefits of using a keyword researcher of that sort, we need to discuss the importance of keyword research.
If you don't do the proper research prior to utilizing a keyword for your article, you may not be maximize the potential of the article.
After all, what drives ranking is a multi-faceted affair influenced by domain age, website age, and competition in that space. Some of these are not under your control (domain and website age), however, you can control your competition by choosing less competitive keywords.
When researching a keyword you want to target keywords that are specific to the topic you are discussing. You also want to target keywords that have low competition yet high searchability ratings. This is shown through a metric called your QSR which we will discuss in more detail later.
The training at Wealthy Affiliate provides a great video on choosing keywords, I highly suggest watching this before you continue reading:
Understanding Keywords, The Start of Your Content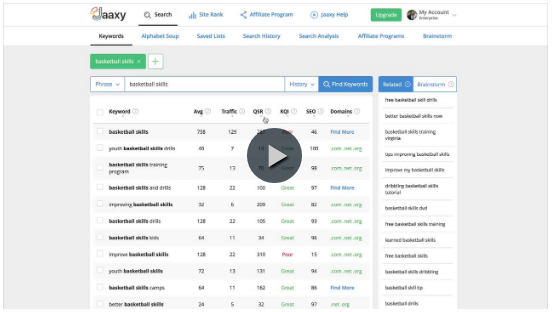 ---
The Important Metrics
To summarize Kyle's discussion about keywords. We need to look at four important metrics of a particular keyword:
Average: This number is the average number of searches that a particular keyword receives per month. This is important because a low average means a low amount of searches for that keyword. Low searches usually results in a low secondary metric: Traffic.
Traffic: Traffic is an ambiguous number in a sense. It is based on an estimate of the amount of traffic your particular site would see utilizing this keyword if you were able to rank on the first page of Google. Hence the importance of your ranking.
QSR: Quoted Search Results or the amount of competing websites that you will be up against when utilizing this specific keyword. 
SEO Score: Your SEO score is based on a scale of 1-100. The higher the rating the better the keyword. This indicates your chances of ranking high amongst different websites and articles on different search engines. 
Let's look at the score for the keyword I used on this article: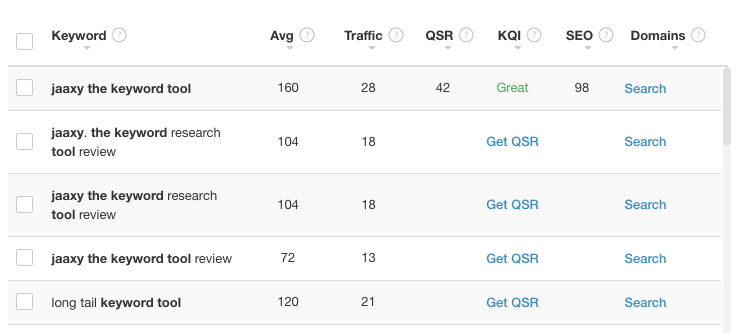 As you can see, the average number of searches per month for this keyword is 160 searches, the traffic estimate to my article is 28 visits. I have a low competition rate at just 42 other sites writing about this keyword and my SEO score is through the roof at a 98.
Usually I chase down keywords greater than 100 average searches and lower than 50 QSR. A higher ratio can be beneficial but that discussion is for a later time.
---
Where Can You Find These Keyword Metrics?
Now that you understand keyword research and its importance, let's discuss how Jaaxy can help you.
These metrics aren't usually included everywhere. Many keyword tools are lacking when it comes to analysis and estimated performance. The reason that Jaaxy is so unique is that it shows you all of this information up front, even in the Lite version that is free with a Wealthy Affiliate membership (another perk). 
Have a keyword in mind that you'd like to analyze? Give it a shot yourself:
Pretty cool, and pretty simple if you ask me. That's not even the extent of what the tool can do. 
---
The Benefits of Jaaxy
Jaaxy is a unique platform in the fact that it doesn't just stop at the base metrics. It really goes above and beyond to make your keyword research as streamlined and successful as possible. 
The alphabet soup method is something I use quite often as an Affiliate Marketer. Sometimes when you search a keyword you would like to use, all of the keywords that are arranged in that fashion have high competition and low SEO score. In order to combat this, sometimes you need alternate suggestions. Jaaxy provides these suggestions for you utilizing the alphabet soup method: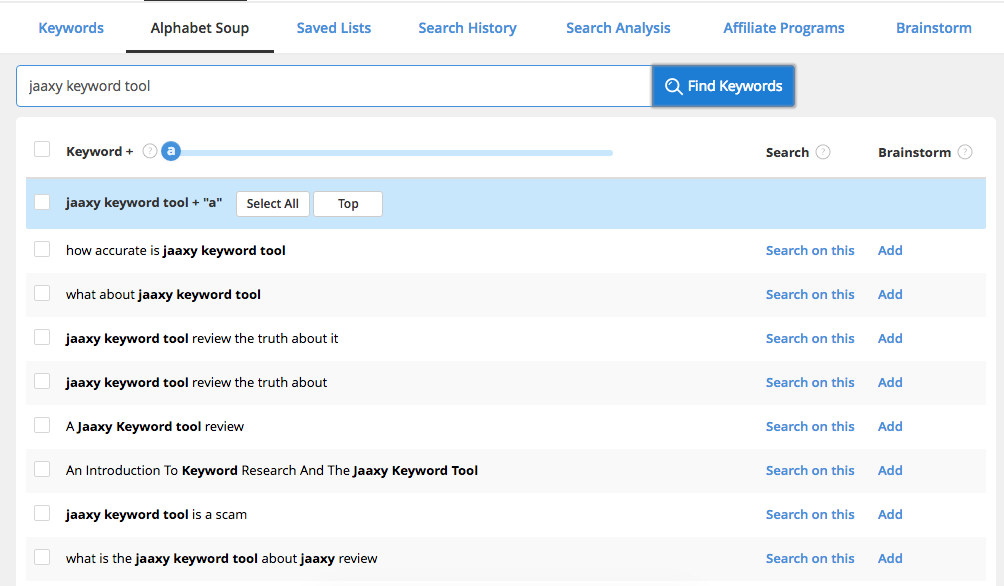 Now you'll have almost unlimited options and variations of your keyword to choose from. You can simply adjust the slider bar to reflect the letter of the alphabet you wish to utilize with the unattractive keyword you initially identified. 
On top of the alphabet soup feature, Jaaxy allows you to generate and save keyword lists for future use. Often times you will discover one keyword that can lead to multiple articles. This means that you have a better chance to rank multiple articles on the first page of Google or other search engines. 
If you are seeking to save some keywords for later and write about further topics related to an article, it's simple to store those keywords in Jaaxy using the Keyword List feature. Some example lists that I've built and identified for particular categories are shown below:
You now have the ability to export these keywords, analyze traffic for the entire list, and sort them particular topics. There are some very lucrative topics included in the list above.
I actually wrote a series of articles about traveling to different destinations that netted me a large amount of traffic. If it weren't for Jaaxy's keyword listing tool and the ability to save these keywords I may not have capitalized on that organic search traffic. 
Jaaxy doesn't stop at just keywords, it also allows you to analyze competition when reviewing affiliate platforms and determining which are the most popular to discuss. If you run a website like mine on building wealth and a successful online affiliate marketing business, then this is a useful tool that can help accelerate even more revenue. 
If you haven't yet signed up for your free account at Jaaxy, I highly encourage you give it a try! There is no doubt in my mind that you will absolutely love this keyword tool and it will most certainly accelerate your keyword research and help you to develop the highest ranking articles and content on Google. 
Click the banner below to sign up for your free account today:
If you already have Jaaxy and want to get even more out of the tool, upgrade to the Jaaxy Premium Platform today. 
If you love Jaaxy, or want more information about the tool or Wealthy Affiliate, feel free to drop me a comment below and I'm happy to talk further about either subject.