There are thousands of books out there that cover a wide variety of topics on business. Some of the top books I have seen in recent years dive into topics like creating passive income online, building a business with no money, e-books on establishing a social presence, effective management skills, and the more general how to succeed in business.
While all of these topics are great topics to learn, do you really need a book to explore all that field has to offer? Not really.
I went on a search recently to discover the best business books for 2019.
---
I have read quite a few books preparing for this article. However, it was easy to narrow my top choices down to 5 key books that have helped me achieve success.
Many of my readers already know that much of my success comes from a long and grueling education in engineering coupled with an endless thirst for knowledge. This thirst for knowledge is what led me to Wealthy Affiliate in 2017 and has since driven me to become a successful affiliate marketer amongst other things.
The key to your reading is that you have to have a goal when tackling a new book.
Is the book related to a broader topic that you are interested in?
Are you seeking knowledge of a particular business law, tax reform, real estate, affiliate marketing, management?
Whatever you are planning to pursue, make certain that the book you choose aligns with your business goals.
Based on my goals, I have put together a list of my favorite tried and true business books that have helped me traverse the ever changing landscape of business, personal and corporate finance, and management of assets.
You may not have the exact same goals as I do. Maybe you're in a completely different market. However, I know that the 5 books outlined below will help anyone in almost any market by providing them with fundamental, basic knowledge needed to generate revenue.
---
The Top 5 Business Books of 2019
#1: Rich Dad Poor Dad by Robert Kiyosaki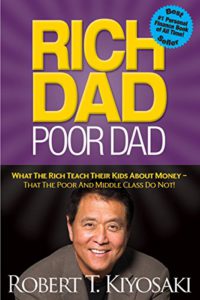 I know that almost all of you have heard of this book. Everyone that has read it touts its ability to make you think differently and the concepts outlined in the book really take you on a journey and will alter your thought process about personal finance, what it takes to make it in this world, and why you need to be a business minded individual.
Robert Kiyosaki originally wrote this book in the 90s. However, all of the principles outlined in the book still hold true in 2019. If you are looking to get a good start in business, adjust your mindset to be a business focused mindset, and need some inspiration to start, this is the single best book to start with.
Robert discusses the difference between living paycheck to paycheck, and becoming the person who furnishes the paycheck. He discusses his real dad, and his rich dad's ideals, takes the best of both worlds, and combines them into a spectacular discussion that teaches you lesson upon lesson throughout.
When it comes to making points, this book does just that over and over again. That's precisely why this book tops my list of best business books for 2019.
#2: Reminiscences of a Stock Operator by Edwin Lefevre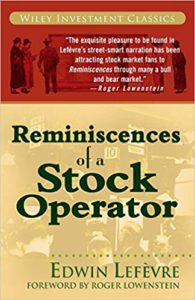 If you are interested in business in general, you are likely interested in how to grow the money you gain from this business. Many like you and I have and will put your cash into the stock market at some point in time.
History always repeats itself. Those who ignore history often have history happen to them. The stock market is no different. If you look back at all the recessions and depressions of the past, there were key indicators that could have saved investors losing a large portion of their portfolio.
This book, although first published in 1923 is actually the most highly recommended investment book ever. There are years and years of experience packed into one 275 page book that discusses speculation, crowd psychology, market panic, greed, and vox populi (the opinion of the masses).
All you need to know about the way people think is in this book. Knowing and understanding the psychological drivers behind market fluctuations can make or break your stock portfolio. That is exactly why this book ranks on my top 6 business books for the new year.
#3: Trump: The Art of the Deal by Donald J. Trump with Tony Schwartz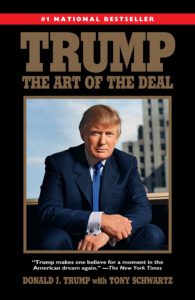 I will try and stay out of the political debate on this one. The book was written much prior to Donald Trump becoming the most recent president of the United States of America.
While Trump may have developed an unpopular reputation with much of the population, there is no doubting the fact that his successes in business exist.
Many argue against his successes in business when they allude to the multiple Chapter 11 bankruptcies his corporations have filed. However, this book tackles strictly some of the most influential deals made in corporate history.
Trump outlines himself, his business, and how he runs each in this spectacular book on closing deals and the steps taken to make them happen. Trump has eleven guidelines for success that he shares with readers in this classic.
While Trump may be unpopular, he makes a ton of money, it's always worth hearing the stories of those who make a ton of money and formulating your own opinion on the actions you should take.
If you are interested in achieving money and success through business, you need to read this book on the true art of the deal making and understand what employing these practices can do to accelerate your business growth.
#4: The Loopholes of the Rich by Diane Kennedy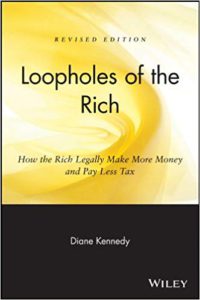 This is a Wiley book which is partially a reason for it gaining much of my trust. Throughout my undergraduate and post graduate education, I found that my favorite educational books were those from Wiley.
They simply knew what authors they wanted to publish, and what books would suit their quality of knowledge sharing. Loopholes of the Rich is no different.
This book states its purpose directly on the cover: "How the Rich Legally Make More Money and Pay Less Tax".
It's really quite a simple concept. If you are paying over 50% of your annual income in taxes, you are not doing your due diligence to study tax law, take the proper write offs, and you are not investing in the proper assets.
Understanding taxes is a key element of developing a business, no matter what avenue of business you have taken. This particular book allows readers to understand the most common write offs and tax strategies that the rich employ to pay less taxes at the end of the year.
If you incorporate these strategies into your business, you will be able to keep more of your money. In turn, you will be able to reinvest your earnings into your business.
It's free to keep your money. Just do as the book says:
Take control of when and how much you pay in taxes
Develop a personalized tax loophole strategy
Create a systemized approach to building wealth through the tax advantages that the IRS WANTS you to use
Structure your business to lower its tax burden and protect your wealth
Legally and ethically lower your tax bill
Remember, the system favors those who create their own opportunity. By becoming a business owner and leader you can generate true wealth. This book tells you just how to make that happen.
#5: The Real Book of Real Estate by Robert Kiyosaki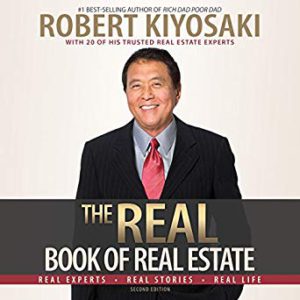 A large majority of business owners are also real estate owners and investors. Once, when I was younger, I over heard a man say that everyone needs a few things to live: food, water, energy, and shelter. I immediately knew that these were the things that I needed to invest in.
I actually emulate Robert Kiyosaki as much as I possibly can. Some of his older books have inspired me so deeply that I was able to change my financial situation, eliminate consumer debt, develop multiple successful websites, decrease my tax burden year over year, and start investing in real estate.
Before I started investing in real estate I needed to fully understand the different avenues you can take within the realm of real estate and how to utilize each avenue to be highly profitable.
It is easy to become overwhelmed by the amount of information on real estate. Whether you are surfing the web or reading individual books on different real estate topics, you need one place that summarizes the opportunities available to you.
This book does precisely that. Robert utilizes experts across all of the different fields of real estate expertise and tells their stories in one place. He discusses the importance of your real estate team and running your real estate investments as a business.
If you are at all interested in real estate, whether you are new to the game or a seasoned veteran, this book is the number one comprehensive real estate information source on the market.
---
Those are my top 5 business books for 2019. If you'd like to continue your reading, some of my other honorable mentions that didn't make this list are below:
The Total Money Makeover by Dave Ramsey
Curious: The Desire to Know and Why Your Future Depends On It by Ian Leslie
Incorporate & Grow Rich by C.W. Allen, Cheri S. Hill, Diane Kennedy, and Garrett Sutton
If you have any questions or thoughts about the books I've discussed above, feel free to comment below. Remember, I will never advertise a sub-par product to my readers. I am here to help you build wealth, not steal it or waste your money.
If you want to connect further and network with me, my colleagues, or learn more about how I manage my businesses and leisure head over to my Wealthy Affiliate profile and send me a message!