Koh Samui, Thailand
Koh Samui is an island off of the east coast of Kra Isthmus lying within the Gulf of Thailand. It is the second largest island in Thailand and is home to many fantastic beaches, tropical blue waters, and beautiful scenes of nature.
Koh Samui is in close proximity to other major island travel destinations in Thailand making it the perfect destination for your next vacation. Originally a Thai fishing community, Koh Samui has since been transformed into a world of resorts and has become a very sought after destination for tourism.
There is no shortage of culture in Koh Samui, and there is a wide variety of individuals from all over the world who visit Samui year round. While this island is a fantastic place all year, the best time to visit is in March when the weather is great, the beaches are lively with visitors, and the wildlife is out and about.
---
March Weather:
March is one of the warmest months in Koh Samui and that makes it prime time for a nice dip in the ocean. The weather doesn't range much. Here's the daily outlook for March in Samui.
As you can see Samui stays pretty consistent in the mid 80's F which is prime weather for a beach getaway. No sweaters required. In addition, nighttime in Samui stays about this temperature as well, so you don't have to run back to the villa and change for your wonderful evening out at the local Samui hotspots.
In addition, with Samui being located in the tropics it is understood that usually the island is a rainy place. Often times a visit is accompanied by thunderstorms and you are most certainly going to get wet.
However, March in Koh Samui sings a different tune for all you out there who aren't rain fans. It is one of the driest months averaging only 4 days of rainfall over the course of the month. This means that you can enjoy the warm sun and will have no worry of needing a parka on your adventures.
---
Cost of Visit:
Depending on where you are from, the exchange rate for travel to Thailand is fantastic. When I went just last year the exchange rate was coming in around .0286 USD per Thai Baht. So 100 Baht is only around 3 USD.
In addition, prices in Koh Samui are not generally consistent with the US or other places of the world. Thailand is cheaper overall, meaning high quality Thai food is low cost. Let me tell you, the food in Thailand is absolutely AMAZING. For the price? Who can beat it. Some evenings we would have huge meals for only 100 Baht. Meaning that our meal cost us only $3. These were full entrees also, not a McDonald's cheeseburger.
I know you are probably wondering at this point about the cost of lodging. Well, that is also very reasonable. You can choose to stay at an extremely upscale resort, or you can use Airbnb or your own private research to find an equally comparable villa. I personally chose Green Coconut Village on Koh Samui because of its proximity and friendly staff.
Your stay is partially about the people, and having a friendly staff to help you navigate the island is very important when you are somewhere you have never traveled before. I commend Green Coconut Village for this.
In addition, we were close to the best beaches and night clubs on the island for our evening fun. We had great restaurants right down the beach, and the price was great for a 3 bedroom villa. The overall cost averaged for us around $175 a night for the entire villa and great service.
So if you are looking for a place to stay I would suggest this quiet village. It allows you to remove yourself from the night life and relax and enjoy the beach during the morning hours if you please.
---
Things to Do: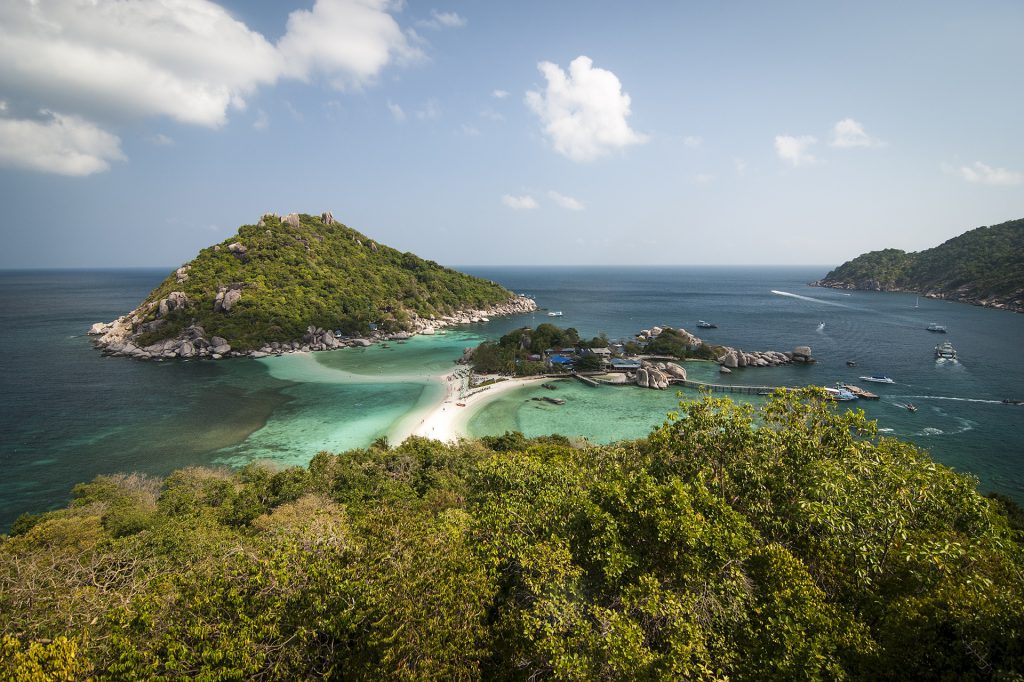 Koh Samui boast countless things to do. I have a few personal favorites directly on Koh Samui and some additional ones from the surrounding areas. Here are my top 5 things to do when visiting Samui.
Rent a moped and explore the entire island in a day. This is a stretch as there is so much to do, but the scenery and different small villages through the island are amazing. You can take a scooter around the main highway and end up exactly where you started. I would encourage you to get an early start as it does take quite a bit of time. My personal favorite stops are the multiple waterfalls. If you snag a map from the Bo Phut area you'll easily be able to navigate the main land marks.
Take a speedboat from Bo Phut over to Koh Tao and Nanyuan. Koh Tao has some of the most beautiful snorkeling in the world. It is home to some of the best diving reefs on the planet as well. If you are scuba certified this is the go to! If not snorkeling is still great. Also, you'll want to hike to the top of Nanyuan which is perhaps the most famous photo spot in all of Thailand. No pictures here. Just trust me and go see the beauty it has to offer for yourself.
Party it up at the Full Moon Party on Koh Phangan. Full moon party is quite the experience. If you at all love nightlife and culture this is the place to experience everything. I suggest jumping the fire jump rope, sliding from the top of one of the popular beach bars down onto the beach, or hanging out by one of the many stages watching fire dancers go crazy.
Eat at the best restaurants on the island. I'd honestly just start walking down the beach and go to the first place you come to or whatever looks enticing to you. Most of Koh Samui's restaurants have fresh caught seafood from that morning. Usually you can ask to have it cooked any way you would like as well. In addition, have yourself some Thai Tea and some quality cocktails overlooking the beach at sunset. You won't be disappointed.
Lastly, meet people! Everyone in Koh Samui has an amazing story. You can easily meet the restaurant owners who have been running the place for years. I personally met people from all over the world…English teachers from Canada, Restaurant owners from Spain, Vacationers from Sweden, you name it. Not only that but meet the locals. Our tour guide to Koh Tao was originally from Myanmar and had moved to Thailand to explore the water every day.
I hope these tips help on your visit to Koh Samui. If you do stay at Green Coconut Village tell the staff I say hello.
---
Not convinced? Want more information? Let me know in the comments below and let's chat about Koh Samui.
Been there yourself? Love it or hate it? Share your thoughts below also.
If you are wondering how I work from these awesome destinations all over the world cruise over and check out my Wealthy Affiliate Review.
Also check out the Best Place to Travel in April.