Product: The Millionaire Switch for Men
By: Jason Capital
Price: Free First Video (Sales Pitch), $9 Initial Sign Up
Rating: 1.0/5
WARNING
If you happen to be a female and you are interested in building wealth for yourself…Steer very clear of this website all together unless you enjoy feeling degraded, put down, objectified, and everything else that women shouldn't feel while surfing the internet.
Overview
So I'm sure that everyone stumbles upon Jason Capital's program "The Millionaire Switch for Men" looking for ways to earn money online, generate a passive income, and ultimately build a generational wealth or achieve financial freedom.
These are very reasonable and attainable goals. However, this product is selling something completely different, SEX. No, I don't mean that he's selling sex directly, I mean that Jason's program promotes getting laid as the primary reason behind becoming wealthy and he promises to tell you how to do both with his training.
If you want to see just what I mean you can jump straight to his first video here. It's pretty self explanatory in my opinion.
The Introduction
So initially Jason pops up on the screen pounding some fancy water bottle that he then throws in the pool behind him which I'm assuming is located at his "mansion". I don't know if this guy is really a millionaire or has just been thrown into some lucky situations and photographed those experiences well.
Jason moves forward showing you him preaching about getting laid and making money just by "flipping a switch" in your head that apparently ignites the millionaire mentality that everyone so commonly references. The listeners at this meet-up? All middle-aged men looking to score one way or another.
I have to say initially I was excited for what Jason had to say because I liked the enthusiasm and I don't care attitude, but very quickly I saw that this wasn't an enthusiastic attitude he carried, but a cocky one.
This is your typical boiler-room style say anything sales pitch that really offers you no insight as to what the product actually does for you, or what he will do for you as a coach. This video and article is filled with fluff to get you to click buy at the end of the whole deal.
Jason talks about your excitement and drive as all of these scammers do when they try and rope you in, and then he begins insulting you if you don't vibe with what he's saying. He starts talking about how you just won't be a "badass" or rise to the top like he and his cronies.
References
Jason tries to pull together some really outlandish references here. He claims that people like Richard Branson, Steve Jobs, Robert Downey Jr., etc, all used a very similar method to his method in order to become rich and famous.
I don't know about you but I smell something fishy here. Buyer beware: these guys busted their backsides all their lives to get where they are. They didn't purchase some online coaching program where the self-proclaimed millionaire danced around in front of the camera and cursed and yelled about how he wants you to be rich after you flip the special switch in your head.
Jason also references people that he deems unattractive, and directly objectifies women (a perpetual problem in our society already, why add to it). Don't believe that statement? Here's a widget he uses: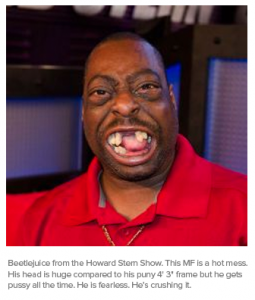 After reading the caption I have no clue what this has to do with becoming a millionaire online, or generating passive income. Do you have any idea?
Testimonials:
Mr. Capital then uses a bunch of testimonials, as does every site trying to pump and dump you right back on your face after spending a ton of money on their programs. Here's examples: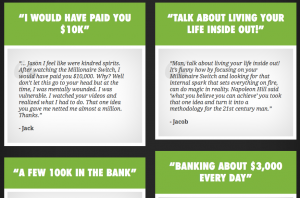 These are your typical testimonials that realistically could have been written up by anyone. This is worse than what I usually see when finding these scams. There are not even any videos of these people making these statements or flashing checks around. Don't feed into this.
Closing Thoughts
I honestly can't write anymore on this program. As I go through more of the video training and the free 2 weeks of nothing that is offered I get more and more offended that this guy thinks dudes buy into this stuff.
I'm guessing it has worked for him before, but let me tell all of you right now, this is not how you generate income online. This is not how to ethically create an empire for yourself and inspire others. If there is one thing I can tell you to do, it's to avoid the hell out of this guy's program.
I don't know what he was thinking in creating this "action-taker community" or support system as he wants to call it but this is really just a perpetual high school locker room talk forum. If you get excited by these things then by all means jam on over and check it out yourself. After all here's a quote that should be inspiring right?

Having a "bulging" bank account has nothing to do with your confidence level. Having a stable passive income that you have created through hard work and dedication (not some get rich quick scheme) shows boldness and shows someone worth following. In addition, just because your bank account is loaded does not mean you are worth sleeping with.
Take a step back because if women is why you are pursuing wealth, you need to rethink your values. I'm sorry, but I refuse to sell out and promote products like these and jump around and tell you how awesome it was.
I'm serious, if you don't believe me go look at his intro page for yourself, and make sure to unsubscribe to his emails right away or you'll be trapped in that never ending black hole.
MAKE MONEY THE RIGHT WAY, BE A TRUE ENTREPRENEUR, BUST YOUR ASS, BE REWARDED.
Go check out my articles on what actually works and what is actually worth your time. I wrote up a great review on Wealthy Affiliate recently and explained all about how that system works.
If you have a different experience and want to share, please leave me a comment, I would love to hear if there is any smidgeon of hope or goodness in this disaster of a program.
Disclaimer: Usually I would write a much more comprehensive overview of how the product operates, what it is worth, who it's appropriate for and who wouldn't enjoy it, but with this, I was so disgusted I could only chug out a few hundred words before my fingers got tired of all the BS.